About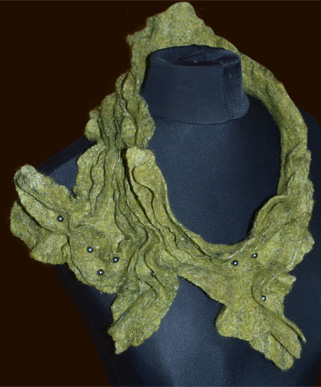 I am a textile artist working mainly in the medium of felt although I also use machine & hand embroidery in some of my pieces. My Studio is on our small alpaca farm in the middle of the Welsh Hills in Powys and a lot of my inspiration for colours and work come from my wonderful surroundings.
I produce 'One off' designer pieces made using wet felting methods. Wool fibre from various breeds of sheep is used, all hand-dyed by small artisan hand-dyers in the UK, together with hand-dyed silk. Alpaca from our own Chrysalis Alpacas herd is also used in some of the work. Colour is an important theme for me, so the colours I choose to work with usually represent the Welsh countryside around me and my lovely garden.
Although mainly self taught with regards to felting, I have received much encouragement and help from good friends and have been lucky enough to attend several workshops with great felting artists over the last few years. You never stop learning.